Carolina Fires Offensive Coordinator Mike Shula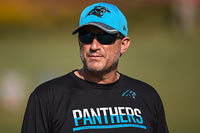 The up-and-down Carolina Panthers had a plenty bad 2017-2018 campaign, and the franchise's management had plenty of places to assign the blame.
But whether it was surprisingly tough competition from unexpectedly good teams (Jacksonville?! What?), quarterback Cam Newton's lingering shoulder discomfort after off-season surgery, or any of the other usual excuses, the reality is that head coach Ron Rivera decided to give the boot to his offensive coordinator Mike Shula instead. Rivera told NFL.com that he was looking to hire a new offensive coordinator that can supply the ailing squad with a "different perspective" and give it "room to grow." Apparently that wasn't Shula, who, despite working closely with Newton in the formative years of the Auburn phenom's pro career – including an MVP-winning 2015 season – had what could best be described as an inconsistent offensive strategy this year.
If we ascribe to a top-down "the book stops here" philosophy, then Rivera's sacking of Shula (the son of legendary coach Don Shula, the winningest coach in NFL history) makes sense, if it is a touch cold. After all, there's no denying that Carolina failed to post the numbers that the investors, owners, management and fans wanted to see. The Panthers ranked 19th in total offensive yardage gained in 2017-2018 season, with 323.7 yards per game overall and 28th in passing, with 192.3 yards per game through the air. But – and this is a big but (har har) – Carolina also ranked a respectable 12th place in the NFL in scoring, with 22.7 points per game, and fourth in rushing offense, putting up 131.4 yards per game on the ground.
Carolina's reliance on Newton's impressive ability to carry the ball were always a sticking point with Rivera, who has been talking about crafting an offense that brought out more of his QB's pass game. Hindsight being 20:20 and all that, a pass-heavy gameplan didn't go over well in 2017-2018, and Carolina spun its wheels through the first quarter of the season, failing to gain any real traction until Newton started running with the ball again. This is unacceptable in Rivera's eyes, as he doesn't want to depend as much on Newton hauling the ball himself as it puts the Panthers' best asset – that being Newton himself – at too much risk week after week to suit the head coach.
Just who Rivera wants to replace Shula remains up in the air, as the Carolina showrunner hasn't named any names yet, but it likely won't be an internal promotion. That's because quarterbacks coach Ken Dorsey was also given the axe, while defensive coordinator Steve Wilks is leaving the team of his own volition and has already started interviewing for a head coaching gig of his own. No, it looks like Rivera is going to perforce be cleaning house before the beginning of next season, but who he picks to fill these vacancies will ultimately determine whether a clean slate approach is a good idea for Carolina or will foster only more offensive inconsistency.
Return to: SportsBettingNorthCarolina.com
Best North Carolina Sports Betting Sites - 100% Trusted + Safe
| | | | | |
| --- | --- | --- | --- | --- |
| | | 50% Up To $250 | VISA + Wire Transfer | |
| | | 50% Up To $1,000 | VISA, Bitcoin, Cash Wire | |
| | | 50% New Member Bonus! | VISA, Bitcoin | |
| | | 100% Up To $300 | VISA, Bitcoin | |
| | | 50% Up To $1,000 | Bitcoin, Wire Xfer, VISA | |